Corroboree Rock Conservation Reserve
Corroboree Rock Conservation Reserve is about an hour's easy drive from Alice Springs. Corroboree Rock is an outstanding dark grey column of dolomite. It is of great importance to the Aboriginal people of the region.
The rock itself is an outcrop of dolomite from the Bitter Springs Formation originally laid down in salty lakes 800 million years ago.
Dolomite is a soft sedimentary fine grained rock. It is very similar to limestone except magnesium carbonate is the dominant compound rather than calcium carbonate.
At the base of the rock you can see dark grey and light grey streaky blobs of 'dalmation rock'. A ring of low ground surrounding the rock makes it look like an obelisk.
Cultural Features
Corroboree Rock was probably used as an important storage site for ceremonial objects by the Eastern Arrernte Aboriginal people. It is doubtful that it was ever used as a corroboree site, due to the lack of water in the area.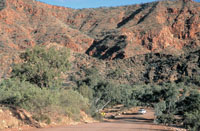 How to Get There
Corroboree Rock Conservation Reserve is 42km east of Alice Springs along a sealed road.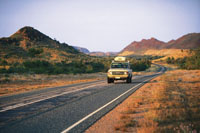 When to Visit
The Park is accessible all year round
Recreational Activities
A short walk leads visitors from the carpark to the 'windows on the rocks' and around the base of the formation.
Visitor Facilities
This Conservation Reserve has walking tracks, a picnic area and toilets.
Please remember that camping is not allowed here.