Together with stunning tropical waterfalls and swimming holes, this is a truly beautiful destination found just south of Darwin, the capital city of the Northern Territory. Litchfield National Park features numerous waterfalls which cascade from a sandstone plateau called the Tabletop Range, monsoon rainforests, intriguing magnetic termite mounds and historical sites. Litchfield National Park is chosen by local Darwin residents and tourists as 1-3 day destination for it's waterfalls and magnetic termite mounds. Also noted are the 4WD tracks into some of the more remote parts of Litchfield National Park and surrounding region.
Information on Litchfield National Park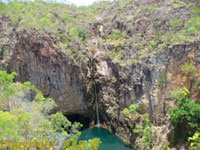 Litchfield National Park lies approximately 130km's southwest of Darwin near the town of Batchelor and covers around 1,500 sq km's. Batchelor a township is widley known as the gateway to Litchfield National park and also has it's own unique attractions such as the Coomalie Cultural Centre you should not miss. The Park was established in 1986 and is a very popular destination being so close to Darwin with over a quarter of a million visitors a year. The Park was named after Frederick Henry Litchfield who was a member of the Finniss Expedition from South Australia that began in 1864 in a bid to set up a settlement at the mouth of the Adelaide River.
Visiting Litchfield National Park
Magnetic Termite Mounds – 2WD accessible. About 17 kilometres from the eastern boundary of the Park is the first major batch of Magnetic termite mounds.
Location: With no fees to pay the formal viewing area is just off Litchfield Park Road in the northern area of the Park, boardwalks take you close to 2m high, thin Magnetic Termite Mounds which are aligned north-south and giant taller 4m high Cathedral Termite Mounds.
Termite Mounds visitors guide in Litchfield National Park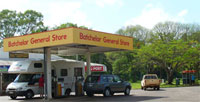 Towns - Batchelor Town of Batchelor the gateway to Litchfield national Park just 90 miutes drive from Darwin on the Stuart Highway.
~ Where_is_Batchelor
~ Batchelor General Store
~ Batchelor Visitors Information Centre
~ Map of Litchfield National Park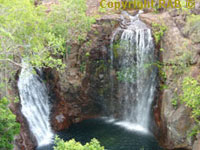 Florence Falls in Litchfield National Park - Spectacular double waterfall set amid the monsoon forest cascades into a swimming hole. The lookout proves a panoramic view.
Open all year round, camping fees do apply. (160 step staircase down to the swimming area, there is also a viewing platform at the top of the Falls if you do not wish to swim) Additional Shady Creek Walk (Florence Falls area) approx 1km one way, 30mins duration, level (easy).
Florence Falls - is 2WD accessible Camping is available with toilet and shower facilities. Link: Florence Falls - 2WD and 4WD Campgrounds in Litchfield National Park.