Trephina Gorge, in the East MacDonnell Ranges, is noted for its sheer quartzite cliffs and River Red Gum lined watercourses.
Two gorges dissect the range: Trephina, with its wide views and sandy creekbed, and John Hayes Rock Hole with steep, narrow rock walls.
How to Get
There Situated 85km east of Alice Springs, the Park is accessible to all vehicles. Access is via the sealed Ross Highway, then a 9km drive into Trephina Gorge, the last 5km on a gravel road.
The John Hayes Rockhole track within the Park is recommended for 4WD vehicles only. Infrequent heavy rains may cause all roads to become impassable.
Trephina Gorge Nature Park lies in the East MacDonnell Ranges, 85 kilometres east of Alice Springs, and is notable for its sheer quartzite cliffs, Red River Gums and sandy creek bed. Trephina Gorge is one of two gorges that intersect the range.
The other, John Hayes Rock Hole, is an impressive structure. The waterholes attract a wide variety of unique native wildlife, including diverse range of bird species. The 'Valley of the Eagles' behind it where eagles abound on occassions and Wedge-Tailed Eagles which lend their name to the Valley of the Eagles. Access to the top of the valley wall can be gained by steep climbing of the rock face towards the rear of the valley' the views are spectacular (see official maps for reference first). Once a part of the Garden Station, the nature park has strong historic links with the early settlement of Central Australia. Access to John Hayes Rockhole is four-wheel drive only and may be subject to periodic closure due to weather conditions.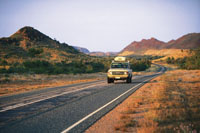 When to Visit
The cooler months, from April to September, are the most pleasant time to visit Trephina, although the Park is open all year round.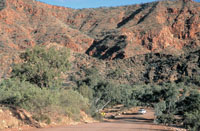 Visitor Facilities
• Car park
• Camping grounds with pit toilets, picnic tables and drinking water are provided at Trephina Bluff and Trephina Gorge. There is no water provided at the John Hayes camp ground.
• Camping fees are payable at the sites.
• BBQ Facilities
• Address: Ross Highway 85 kilometres east of Alice Springs, Alice Springs Northern Territory 0870 Australia. Telephone +61 (8) 8951 8250