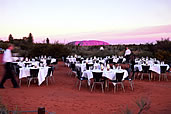 Sounds of Silence
At the Sounds of Silence experience you can dine under the canopy of the desert night, while your very own storyteller shares the tales of humanity as told in the stars.
Entered into the Australian Tourism Hall of Fame, Sounds of Silence offers the best of the Red Centre distilled into four magical hours. An unforgettable evening, eating beautifully prepared food under the sparkling outback sky.
Your journey begins on a lone sand dune. A meandering path takes you to an uninterrupted, three hundred and sixty degree view of this vast landscape. In front of you is the fabled Uluru; behind you are the domes of Kata Tjuta and, possibly the most spectacular sunset you have ever seen. Here you enjoy sparkling wine and a selection of delectable canapιs.
As the sun sets in a blaze of reds and oranges, and well into the starlit night, you feast on a gourmet barbecue buffet of authentic Australian delicacies including barramundi, kangaroo, emu, crocodile, bush salads and classic desserts, complemented by some of Australia's finest wines.
Attention then turns to some of the world's best stargazing, as our resident astronomer takes you on an unforgettable tour of the spectacular southern night sky. As you wind down after a delicious dinner, you are offered a choice of tea, coffee or port. In winter, guests gather around a campfire to savour a special treat of hot mulled wine.
We cannot recommend the Sounds of Silence experience highly enough, and we certainly encourage every visitor who comes to Voyages Ayers Rock Resort to join us for this unique event.
The Sounds of Silence experience includes:
Canapιs
Beer, wine and non-alcoholic drinks
Gourmet buffet barbecue (vegetarian options available with prior notice)
Scrumptious desserts
Tea, coffee and port
Entertainment
Star talk and stargazing
Return transfers from your Voyages Ayers Rock Resort accommodation.
Tour Departures
Tour operates daily. Pick up times are seasonal and approximately 1 hour prior to sunset each day. Please confirm your departure time with the tour desk or reception 24 hours beforehand. Duration of the tour is around 4 hours.
Please Note: Tour not recommended for children under 10 years of age and is subject to availability and weather conditions permitting. Minimum and maximum numbers apply for this tour to operate. Surcharges apply on Christmas Day and New Years Eve.
Pricing
For tour pricing, please download the Ayers Rock Resort Activities Fact Sheet
Cancellation Policy
Ayers Rock Resort reserves the right to cancel the Sounds of Silence event. If the event is cancelled prior to departing, guests who have paid the Resort directly will be provided with a full refund. Guests booked as a package or through a travel agent will be provided with a letter supporting a refund or the option to dine in any buffet restaurant including a drinks package and a gift . Rebooking for the following night will be subject to availability at the time of cancellation.