Up for the Max Challenge?
Larapinta 223 (end to end): 20 days - Overnight
ALICE SPRINGS TELEGRAPH STATION to MT SONDER
(Sections 1 – 12)
'Larapinta 223' refers to walkers trekking the entire 223 kilometres from the Alice Springs.



Section 12 of the Larapinta Trail is graded as hard - a rough and narrow track with some steep and/or long climbs and descents, suitable for fit people with previous bushwalking experience.
Section 12 starts and finishes at the Redbank Gorge car park.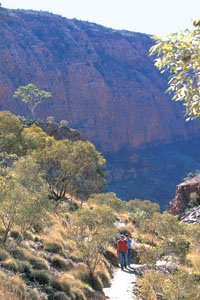 Telegraph Station to the summit of Mt Sonder (Sections 1 to 12). It is suggested that you allow 20 days for this remote and difficult adventure, allowing for rest stops, side trips and to restock food supplies.
There are no restrictions on which direction you walk.
Either way you will encounter some challenging climbs and descents, spectacular views and scenery like nowhere else in the world. Many people choose to walk the Trail from west to east (Mt Sonder to Alice Springs) because they can get dropped off at Redbank Gorge and finish in town at their own pace.
However if you are happy to finish your walk at a time set by your transfer back to Alice Springs then perhaps this is the option for you.
All of our Trail notes are written from east to west and there is nothing quite like finishing off your walk with the goal of Mt Sonder creeping closer and closer.
Don't forget to organise several food drops along the way and if you are walking from east to west (Alice Springs to Mt Sonder), be sure to organise a pick up from Redbank Gorge before you depart (see the links and contacts page for companies who provide these services).
Walking from east to west also allows you to make food drops on the way out to your starting point. This way you will know exactly where they are!



Please feel free to contact us at NT Parks for more information about attempting the entire Trail.
Please Note: All of the above recommendations are based on walking between April and October with 2 or more people.
For more information about the safety and logistics of walking the Larapinta Trail please read the information on our website carefully and purchase a copy of the Larapinta Trail Package for more detail including trail notes and detailed maps.
Preparation and planning is the key to a safe and enjoyable walk. We recommend that all walkers register with the Overnight Walker Registration Scheme.