The Finke River 4WD (four wheel drive) route
The Finke River 4WD (four wheel drive) route takes in a spectacular section of the mighty Finke River and provides a challenging 4WD experience between Finke Gorge and Watarrka National Parks. The Finke River with its permanent waterholes and wide flat bed has been of great importance to Aboriginal people for thousands of years, providing a travel and trade route through the region.
Ernest Giles was the first European explorer to navigate this section of the Finke River in 1872. Many more explorers recognised its value as a navigation aid in their push north. After the establishment of an inland mission at Hermannsburg in 1877, Lutheran Missionaries came to use the Finke as a supply route. The first white settlers established a pastoral industry around the reliable waterholes of the Finke.
Today this section of the Finke River is protected within the Finke Gorge National Park. The drive amongst the River Red Gums is an excellent opportunity to observe wildlife, especially the waterbirds of Central Australia.


Planning Your Trip
The route is high clearance 4WD only and is not suitable for trailers. The remoteness of the this area makes planning and emergency contingencies essential.
Before you begin: Determine your fuel needs remembering that driving is mainly 4x4 and fuel consumption will be higher than normal. Take 6 litres of water per person per day, plus extra water in case of delays.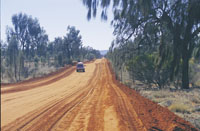 Parks & Wildlife Service of the
Northern Territory Regional Office - Arid Zone Research Institute
Address: Tom Hare Building South Stuart Highway, Alice Springs NT 0870
PO Box 2130 Alice Springs NT 0871
Ph: (08) 8951 8211 Fax: (08) 8951 8290
http://www.nt.gov.au