Curtin Springs in Northern Territory, Central Australia

Curtin Springs is located on the Lasseter Hwy just 85km east of the entrance to the Ayers Rock/Olgas National Park and is conveniently located for your day trips to Ayer's Rock, The Olgas, Kings Canyon and Mount Conner.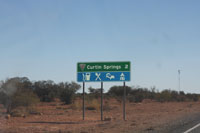 Curtin Springs is a working Cattle Station owned and operated by the Severin family. The family took over the pastoral lease 1956 and still live on and run the station today. The family extend the unique hospitality that has made them a legend in the NT.
Curtin Springs offers clean, comfortable and affordable accommodation for you to see Ayers Rock and Kings Canyon. We provide a range of accommodation options for singles, families & groups in our Budget, Ensuite or Family Rooms.
Peter Severin opened his homestead as a key stop for passing travellers on their way to Ayers Rock. They installed petrol pumps and a small store to help Len Tuit start tourism in the Ayres Rock area. Looking at the area now it's hard to believe that the Severins only saw 6 people in their first year here. They have watched the tourism industry grow ever since.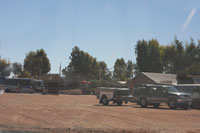 Curtin Springs caters for the needs of the passing traveller by providing reasonable priced accommodation, free unpowered camping, powered sites, a licensed pub, homestyle meals and station tours.
The Store is open from 7am until late daily and offers petrol, diesel, auto gas, soft drinks, ice creams, food, souvenirs, basic groceries, tea and coffee as well as alcohol both to drink in or takeaway.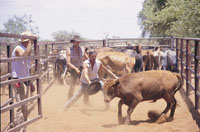 The Severin family offer you a real taste of the outback, with modern facilities and an atmosphere that people come back for.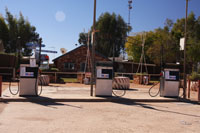 Accommodation Facilities Only
• Fax
• Pool/Spa
Other Services
• Public Transport Nearby - Very limited public transport out here, but there are daily buses between Ayers Rock and Alice Springs.
Facility For Guest & Public Use
• Convenience Store /Kiosk
• Bar
• Licensed Restaurant
• Café/ Meals Available
• Fuel: ULP, Diesel, LPG
• Eftpos/ Credit Card Facilities
• Tourist Information &/or Bookings
• Motorhome Friendly Sites with Unlimited large unpowered sites
• Public Phone
• Fax
• Email Internet booth available
• Disabled Facilities - please see www.curtinsprings.com/
• BBQ Facilities
• Laundry Facilities
• Sewage Dump Point (No)
• Sullage Available on Powered/Ensuite Site (No)
Ph: (08) 89562906
Fax: (08) 89562934
Email: enquiries@curtinsprings.com
www.curtinsprings.com/